Please Read Before Registering!
First of all. For iPad and/or iPhone users, click the black arrow in the ''upper right corner''.
Tap/choose ''Classic Version''. (iPad and iPhone only)
Click ''See the image'' to see instructions!
1. Arrow (Corner)
2. Classic Version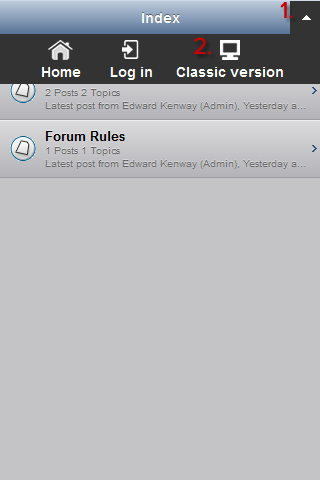 Our old forum was a bit buggy, had a strange admin panel and had weird gaps and stuff between each posts, so I am glad to present to you our new Black Flag - Official Guild Forum!
I also have full control of every member of this forum. If anyone leaves or get kicked from the guild, I can remove them from the forum, which I couldn't do before. Our ''members section'' only appears when you login, so all the important content of the forum is only viewable by us, the members of the guild!
Before you register, please read!
Choose a username that is the same as your Plunder Pirates in-game name! 
(So that we know who everyone are)
To keep it clean and simple, when you have registered I will activate your account! 
(You can't post or see any ''secret member threads/sections'' before I activate you. I will get notified here on this forum, but you can also remind me in our in-game chat)
.